Technology continues to grow at a rapid pace, entire industries are being disrupted and payments on mobile devices have become a reality. The ease of making payments has prompted e-commerce companies to change the way they do business. However, the act of giving hasn't changed much since the advent of new technologies. It's not just technology that's changing either, the concept of giving among millennials is different than previous generations and movements and larger causes are whats motivating them to give to charity.
After seeing a decline in donations during The Great Recession, many charities and non-profits have started to look at new and better ways to fundraise. Social media is the means by which many people are connecting these days so it only makes since charities have a presence and connect with their donors there. But many other platforms are being launched as well that organizations who are looking to connect with a younger generation might find useful.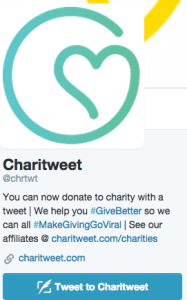 Charitweet – Twitter's immense popularity is the perfect place to find and reach donors. Charitweet actually uses the twitter platform to facilitate giving. To donate, one tweets the username of the charity they want to donate to, the username of Charitweet (@chrtwt) and the amount of the donation. If it's the donor's first time giving through Charitweet they will be prompted via a notification through Twitter to enter their credit card information. Every subsequent charitweet is then as simple as 123. All charities must be rated a 3 stars or more on Charity Navigator.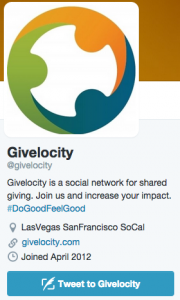 Givelocity – Givelocity allows users to connect with others interested in giving to similar causes, pool their funds and give. Visitors to the site choose causes that are important to them, start or join a fund with other donors and together they vote on where their money is given. This platform allows people who are willing to give but that don't have a lot of resources to participate in charitible giving. Givelocity also caters to corporations allowing them to create groups with people associated with the company, and match funds.
Charities, Giving, philanthropy