Director, Park Avenue Facial Aesthetics
Co-President & Co-Founder, SaDilKa Foundation
Dr. Lopa Y. Gupta is a highly specialized eyelid microsurgeon with impeccable credentials. After graduating as Valedictorian of her high school class, she was selected to Northwestern University's exclusive 6 year Honors Program in Medical Education, where she received her M.D. with highest distinction (Alpha Omega Alpha). She then attended Stanford University, where she did clinical and basic science research on retinal diseases upon being awarded a generous grant from the Retinitis Pigmentosa Foundation. This resulted in multiple publications in peer-reviewed journals. Dr. Gupta then did a Residency in Ophthalmology at Stanford University Hospital, where she was trained by some of the world's leading Eye Surgeons. Following her Chief Resident year, she was recruited by Stanford University to assume the position of Clinical Instructor in Ophthalmology. Her passion, however, was Eyelid Plastic and Reconstructive Surgery which led her to a fellowship with a founding father of Oculoplastic Surgery, Dr. Orkan G. Stasior, with whom she learned and mastered the art of eyelid surgery.
Now in her 19th year of practice, Dr. Gupta has been selected as a Top Ophthalmologist by the Consumer's Research Council of America for the past 5 years. She is the proud recipient of the Patient's Choice Most Compassionate Doctor Award. She is certified by the American Board of Ophthalmology and is a fellow of the American Academy of Cosmetic Surgery. She has fine-tuned her technique of laser eyelid rejuvenation and has taken it to a new level. Being a dancer and interior decorator she understands the aesthetic component of surgery. Being an ophthalmologist, she understands eye anatomy, safety, and vision. The results are artistic and natural. Patients enjoy a quicker recovery with little to no pain. Moreover, she is one of few surgeons worldwide who uses a laser to remove not just fat from the upper and lower eyelids but skin as well, yielding superior results without scarring or changing the shape of the eyes. Dr. Gupta performs all eyelid and cosmetic procedures in the office under local anesthesia without general anesthesia or intravenous sedation. Patients typically walk out of the office within minutes after having the procedure.
Mantu Gupta, M.D.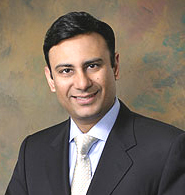 Chairman of Urology, Mt. Sinai Roosevelt Hospital
Chairman of Urology, Mt. Sinai St. Luke's Hospital
Professor of Urology, Icahn School of Medicine at Mt. Sinai
Director of Endourology, Mt. Sinai Healthcare System
Director, Mt. Sinai Kidney Stone Center
Co-President & Co-Founder, SaDilKa Foundation
Dr. Gupta graduated Valedictorian of his high school and was selected as a Presidential Scholar in 1983, being recognized at the White House by President Ronald Reagan as the top male student from the state of Pennsylvania. He went on to join the prestigious Honors Program in Medical Education at Northwestern University and earned a combined B.S-M.D. degree. He subsequently did his Urology residency at the University of California San Francisco and completed a fellowship in Endourology and Laparoscopic Surgery at Long Island Jewish Medical Center in New York.
Dr. Gupta became Chair of Urology at Mt. Sinai Roosevelt and St. Luke's Hospitals in 2014, after running the Kidney Stone Program at Columbia Presbyterian for 18 years. Dr. Gupta not only has a busy surgical practice, but he is also actively involved with research and resident education.
He is recognized as a world leader in the research and treatment of urinary stone disease, ureteropelvic junction obstruction, urinary tract obstruction and in endoscopic urologic surgery, having pioneered many of the techniques in current use. The recipient of numerous honors and awards, Dr. Gupta has served as a visiting professor both within the United States and throughout the world. He is a frequent lecturer and moderator at national and international meetings and has published extensively in major peer-reviewed journals and authored innumerable book chapters. Additionally, Dr. Gupta teaches various surgical skills courses throughout the world and has served as editor and guest editor for numerous publications. He serves on the review panel and editorial board of numerous publications, including the Journal of Endourology, the Journal of Urology, the Indian Journal of Urology, and Urology. His hobbies include reading, golf, and writing poetry, for which he has won several awards and has published in numerous literary magazines and books.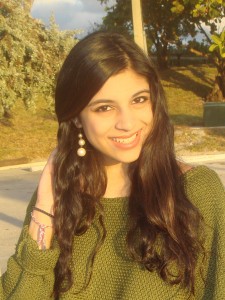 Sarina Gupta
Senior, McGill University
Co-President & Co-Founder, Junior Chapter of SaDilKa Foundation
Sarina graduated Scarsdale High School in 2012 and is currently a rising senior at McGill University in Montreal, Canada. She is in the Honors Anthropology program with a minor in Psychology. Future plans include medical school. Sarina is passionate about medicine and volunteer work and has devoted every summer toward these pursuits. In 2013, she participated in a medical camp (funded by SaDilKa–see blog in Junior Chapter) in Tanzania, Africa where she was thrust into action delivering babies at the women's clinic. She also spent some time at an orphanage and her photograph taken there won a photography contest held by IVHQ. During July and August,she shadowed a fellow in Cardiothoracic Surgery at Columbia Presbyterian in New York, watching and participating in numerous bypass surgeries and lung transplants, reading articles, and going on fresh organ harvests. During the summer of 2014, Sarina had the distinct pleasure of working as a Research and Development Intern at the War Child headquarters in Toronto, under the tutelage of Dr. Samantha Nutt. War Child is a non-profit organization whose mission is to educate and protect children legally and medically in impoverished war-ravaged countries. Later that summer, Sarina embarked on a volunteer mission to Xi'an, China where she taught English and Math to children with Down's Syndrome, Autism, and cerebral palsy. This summer, Sarina will be working in the laboratory of internationally renowned neurologist, Dr. Saud Sadiq, doing stem cell research for multiple sclerosis.
In addition to her academic workload, Sarina is involved in numerous extracurricular activities. She is a staff reporter and photographer for the McGill Daily. Her articles and photos are often featured on the front page. Sarina has also been Vice President of Communications, Vice President of Logistics, and has now been elected as Vice President Internal for Universities Allied for Essential Medicines (UAEM), an organization seeking global health initiatives and equitable licensing provisions for McGill. In 2014, Sarina and her partner won the Hult Prize at McGill for their innovative idea of emergent health care delivery to impoverished areas.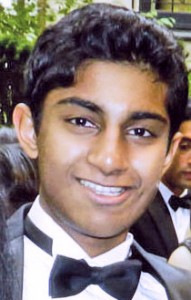 Dilan Gupta
Rising Sophomore, Columbia University
Co-President & Co-Founder, Junior Chapter of SaDilKa Foundation
Dilan graduated from Horace Mann High School in 2014. He is an all-rounder and manages to excel in all that he does. He is an accomplished pianist and percussionist with performances at Lincoln Center and SUNY Purchase in New York. He served as Captain of the Horace Mann Varsity Tennis Team and was a top player on the Varsity team since 9th grade. Dilan was a nationally ranked tennis player, having won countless USTA tournaments. Dilan has also been actively involved with medical research and has co-authored 2 scientific papers, one of which has been accepted for publication in the January, 2014 issue of the Journal of Endourology.
Dilan is a Math Major at Columbia University and is finishing his freshman year. Dilan managed not only an intensive academic workload but was passionate about "giving back". He made it his priority every Saturday to tutor and mentor teenage boys from Harlem, successfully getting them off the streets by making them understand, realize, and appreciate the value of education. He would play basketball with them, tutor them in math and English, teach them practical problem-solving, have heart to heart discussions with the boys and their mothers, and, most importantly, believe in them. As if this were not enough, Dilan also began his own start-up company, devoting numerous hours to it and learning all the ins and outs of being an entrepreneur. Dilan is entertaining a career in Bio-Tech and is thinking about the possibility of medical school, business school or both!