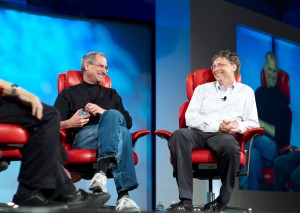 Bill Gates and Warren Buffet started The Giving Pledge in 2010 in an effort to bring visibility to important issues and to get high profile billionaires to pledge money to help improve the world. The number of people that have signed the pledge to give over half of their money to charity is now over 125. Many of them are household names and arguably their biggest contribution is putting their names on the list.
One symbolic pledger is Ray Dalio. Dalio started the biggest hedge fund in the world, Bridgewater Associates. Dalio is worth an estimated $15 billion. Dalio signed the pledge in 2011. Dalio is a completely self-made success and sits at one of the most visible positions in the finance industry. Dalio is important because hedge funds were often vilified after the crash of 2008. But many hedge fund managers have philanthropic foundations with billions of dollars, Dalio has started to give more and more money to his foundation.
Tim Cook recently joined the ranks of pledgers. What differentiates Cook is not only that he took over for the most important tech entrepreneur of all-time after his tragic passing but his relatively low net worth. At just $800 his net worth is nothing compared to the likes of other pledgers Bill Gates, Warren Buffet and Larry Ellison whose assets sum to more than $150 billion. But Cook is the CEO of Apple and along with entrepreneurs like Ellison and Gates this pledge is an endorsement for philanthropy.
Mark Zuckerberg, the founder of Facebook has also taken The Giving Pledge. Zuckerberg is just 30 years old and is worth more than $37 billion dollars. As Facebook continues to add value to users and expand to other countries Zuckerberg stands to be the richest on this list in the future, helping to make the Giving Pledge last across generations. The millennial generation are already staring to show they would rather work for and buy from mission driven companies that seek to do good. The future looks promising!
Bill Gates, Mark Zuckerberg, philanthropy, The Giving Pledge, Tim Cook